Sudaca Films is a Latin American independent film producer
Project Background
In 2007, I embarked on a journey with the Latin American renowned filmmakers Mariana Rondón and Marité Ugás to create a promotional marketing kit for their films.
Since then, I have been working with Sudaca Films, creating digital platforms devoted to serve the international niche of moviegoers and distributors.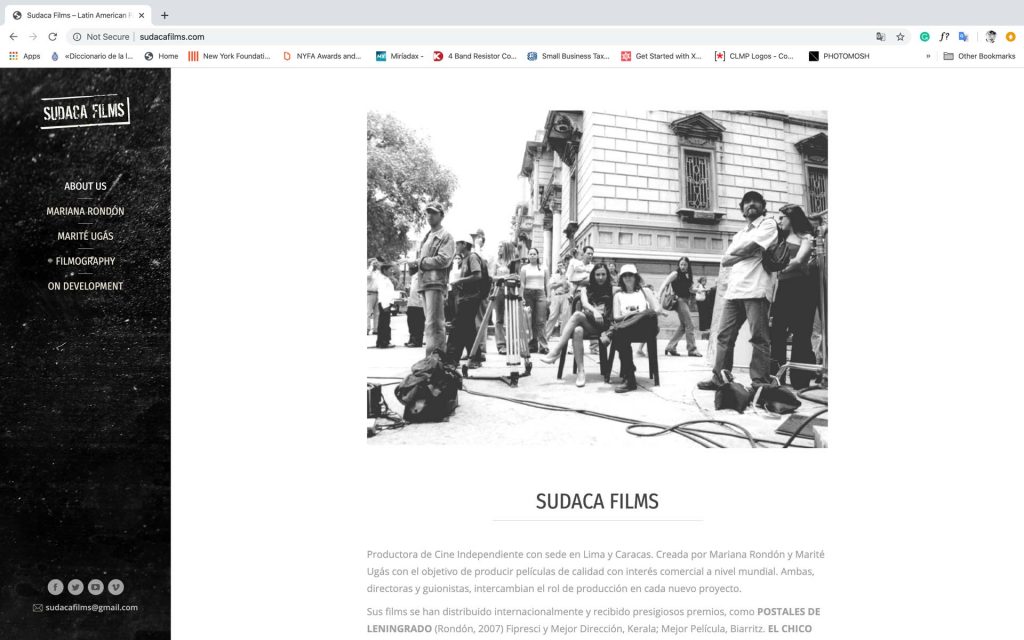 2007 | Artist and Filmmaker Mariana Rondón— Portfolio
How the project started
The first project I made for Sudaca Films was Mariana Rondon's portfolio in 2007.
Mariana Rondón is a Venezuelan artist and filmmaker. She studied Animation Filmmaking and Video Arts under the mentorship of William Wegman in Paris. In 1986, she joined the first generation of graduates from the School of Cinema in Cuba, where she directed the short films Cáscaras, and Algo caía en el abismo ('Something was falling into the abyss'.)
In 1994, her company Sudaca Films made her film Calle 22 ('22nd Street') the winner of 22 international awards. Her first feature film, A la medianoche y media ('At midnight and a half',) premiered in 2000 and was co-directed by Marité Ugás. It won five international awards and was shown in over 40 international film festivals in cities such as Tokyo, Rotterdam, and Seattle.
In 2007, she released Postales de Leningrado ('Postcards from Leningrad',) which won 23 international awards, including the International Federation of Film Critics' Prize (FIPRESCI Prize); the Kerala State Film Award to Best Direction, in India; the Biarritz Festival's ABRAZO award, in France; and the São Paulo International Film Festival's Jury Award in the category of Best Feature Film, in Brazil.
She then produced El chico que miente, directed by Marité Ugás, which premiered at the Berlin International Film Festival in 2011.
Her following motion picture, Pelo malo ('Bad hair',) was filmed in 2012 and released in late 2013. Her film Bad Hair received the Concha De Oro in San Sebastian Film Festival 2013, among other 40 international awards. The film was released worldwide, including in the United States, and was featured in The New York Times Critics' Picks. She also works as visual artist.
This is the solution I designed for Mariana in 2007
This website is the only website from this group, design in HTML before HTML5 appeared, and the responsive technology arrived. At that moment, phones weren't able to manage browsers or navigate websites, so adaptability to screens wasn't on the scene. Mariana —and I support her decision— wanted to keep the original website as a vintage relic. It still does the work and we love it. Probably time will hit our romanticism and we will need to update the website sooner than later. For the moment, you can enjoy the beauty of Mariana's old school and hand-typed HTML/CSS website.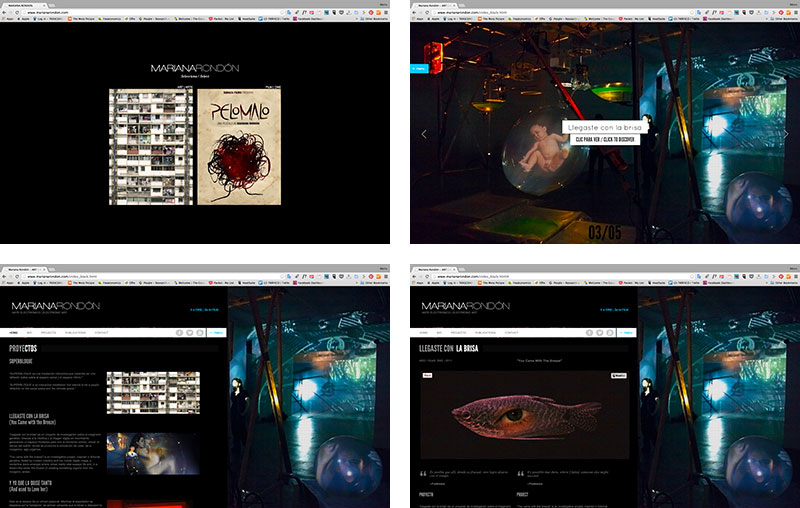 2011 | Promotional Website for the Film El chico que miente ('The kid who lies')
A short introduction about the film "The Kid Who Lies"
In 2011, I created a website for the worldwide promotion of The Kid Who Lies film. The film is about a boy who survives the 2009 Venezuelan natural disaster commonly known as the "Vargas tragedy". During the disaster, he loses his mother and decides to go on a reconstruction trip hoping to find her.
This is the design solution I create to promote the film in 2011
The website was aesthetically designed as a reconstruction of the boy's symbolic reality. The kid constantly manipulates the narrative of what happened to him recreating new meaningful associations within his own disorganized sense of self-awareness in an effort to cope with his grief. I designed the layout to reflect the texture of the kid's conflicted made-up memory.
As a marketing tool, the website has the goal of serving the international film distributors market. The technology of the time was limited to certain content management systems. In this case, I first built the website using Joomla. Recently, I migrated the website to WordPress and redesign the user interface to be responsive to the different shared screens of today's world. Another reason why I migrated to WordPress is that this open-source platform offers a long-term life to the website, enough technological independence, flexibility for design customization and addons, a user-friendly admin backend, and large global development and technical support community.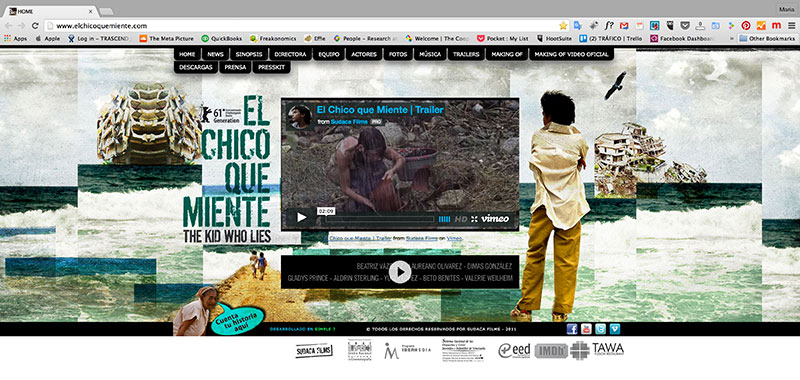 Synopsis
The Kid Who Lies is a feature film set on the coast of Venezuela. It is the story of a boy who enchants others by telling them stories about the deadly mudslide he survived. In some of his stories, he is rescued by his mother, who sacrifices herself to save him.
A mudslide had ended his world ten years back. Many people disappeared, including his mother. Now the memories, carefully spun by his father, are contradictory, which compels him to seek his own version of the story. It is an arduous journey in which he also discovers his own universe of emotions and feelings. In the end, the boy cannot decide whether to laugh or to mourn, but at least the wound in his soul begins to heal.
2013 | Promotional Website for the Film Pelo Malo ('Bad hair')
A short introduction about the film "Bad Hair"
Bad Hair (Pelo Malo) is a 2013 Venezuelan drama film written and directed by Mariana Rondón. The film screened in the Contemporary World Cinema section at the 2013 Toronto International Film Festival.
The film has been praised by critics for its performances by Castillo and Lange. It deals with many topics ranging from adolescence and parent-child tensions to gender identity and sexuality. It is setting in Venezuelan society also contributes to many of the film's themes.
A simple design solution for our fast world
In 2013, I created a website for the international promotion of the film Bad Hair, aesthetically inspired by "the superblock," a housing concept invented by Le Corbusier, who led Venezuela's housing projects in the 1950s.
An example of the superblock concept is the Simón Rodríguez middle-and-working-class neighborhood in Caracas, which was designed by José Manuel Mijares under the guidance of Carlos Raúl Villanueva. It is located on a large housing-projects area and consists of four superblocks, each one of which consisting of 600 apartments distributed in 15-story buildings with additional amenities.
The aesthetic and functional conception of the website was based on a visual tour of the texture generated by the intimate space. It is represented by symbolic stacks of matter and emotions that undress each reality.
I designed a one-page site for Pelo Malo film, in order to give the distributors all the information they needed by just scrolling down. Today, we navigate websites from phones and tablets more than from desktops and laptops. As a marketing tool for film distribution worldwide, the human-centered design guarantees an immersive aesthetic experience while offering a user-friendly navigation for the buyer, and an effective tool for the marketing team.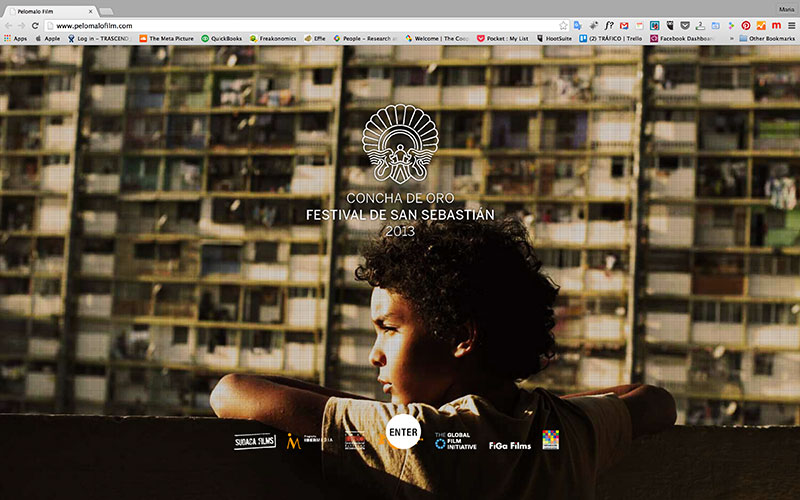 Synopsis
Junior is nine years old and has "bad hair" (or pelo malo.) He wants it to be straight for his school photo so that he can look like a trendy pop singer. This causes him to argue with his mother, Marta. Junior wants to look beautiful to gain her love, but she rejects him more and more. This forces Junior to make a painful decision.
Sudaca Films is an independent film production company based in Caracas, Venezuela. It was presided by Mariana Rondón and Marité Ugás in the early 1990s, whose goal was to produce world-class Latin American films. Both directors and screenwriters exchange production roles in each new project.
The company's productions have received support from foundations such as the Berlinale World Cinema Fund and EZEF (Germany,) The Global Film Initiative (USA,) The Hubert Bals Fund (the Netherlands,) Fonds Sud Cinéma (France,); and institutions such as IBERMEDIA (Spain,), CNAC (Venezuela,) and Conacine (Peru.) It also receives additional funds from Argentina, Mexico, France, and Germany.
Sudaca Films has partaken in important markets and co-production meetings for The Cannes Producers Network (2011, 2014, 2015); the Berlinale EFM, Germany; Ventana Sur, Argentina; the San Sebastián Co-production Forum, Spain; and Locarno Open Doors Film Festival, Switzerland. Pelo malo (2013) won the Golden Shell at the San Sebastián Film Festival and has been distributed in more than 33 countries, including France (Pyramide,) United Kingdom (Axiom,) Spain (Abordar,) Switzerland (Look Now!,) Italy (Cineclub Internazionale,) Brazil (Esfera,) Argentina (Obra,) and Mexico (Circo 212,) to name a few. The company will begin filming their next project, Contactado, later in 2016.